Kajian Perpindahan Massa Ekstraksi Polisakarida pada Biji Asam Jawa dengan Pelarut NaOH
Muhammad Hibatul Azizi

Universitas Pembangunan Nasional "Veteran"Jawa Timur

Dyah Wimala Ramaniya

Universitas Pembangunan Nasional "Veteran"Jawa Timur

Caecilia Pujiastuti

Universitas Pembangunan Nasional "Veteran"Jawa Timur
Abstract
Abstract
Tamarind seeds are waste that can be utilized by taking the polysaccharides. This study aims to determine the mass transfer coefficient in the extraction process of tamarind seeds with NaOH solvent. The factors that influence mass transfer are extraction time, size, temperature, stirring speed, and solvent. Tamarind seeds are soaked for 3 hours then boiled and then the seeds are removed and dried. After that 50 grams of tamarind seeds were extracted with NaOH solution with a concentration of 0.1N; 0.2 N; 0.3 N; 0.4 N; 0.5 N with extraction time 15, 30, 45, 60, 75 minutes. Then the filtrate is separated from the residue. The filtrate was obtained by adding 96% ethanol in a ratio of 1: 2 and allowed to stand for 24 hours, separating the solid with the filtrate. The resulting solid was heated at 75oC and the results were analyzed for polysaccharide levels by the Gravimetry method. In this study, the highest mass transfer coefficient (kLa) value obtained at 0.5 N NaOH concentration is 0.01734 / minute.
References
J. Joseph, S. N. Kanchalochana, G. Rajalakshmi, V. Hari, and R. D. Durai, "Tamarind seed polysaccharide: A promising natural excipient for pharmaceuticals," Int. J. Green Pharm., vol. 6, no. 4, 2012.
T. Gerard, "Tamarind Gum in Hand book of water soluble gums and resins," USA McGraw-Hill B. Co, vol. 12, pp. 1–23, 1980.
H. Hutagalung, "Karbohidrat," 2004.
I. A. Santoso and others, "Serat pangan (dietary fiber) dan manfaatnya bagi kesehatan," Magistra, vol. 23, no. 75, p. 35, 2011.
K. FATMASARI, "ISOLASI POLISAKARIDA DARI UMBI UWI (Dioscorea alata L.) SEBAGAI PENGGANTI GELATIN DAN KARAKTERISASI SIFAT FISIKA KIMIANYA," 2015.
A. Purwanti, S. Sumarni, and A. Parjoko, "Koefisien Transfer Massa Pada Ekstraksi Antosianin dari Bunga Dadap Merah," J. Tek. Kim., vol. 10, no. 2, pp. 52–60, 2016.
P. Mardina, A. Gunawan, and M. I. Nugraha, "Penentuan koefisien transfer massa ekstraksi kalium dari abu batang pisang," Konversi, vol. 1, no. 1, pp. 39–44, 2012.
R. E. Kerk and D. F. Othmer, "Encyclopedika of Chemical Tehnology, The Interscience Encyclopedia Inc." New York, 1978.
C. J. Geankoplis, Transport processes and separation process principles:(includes unit operations). Prentice Hall Professional Technical Reference, 2003.
S. B. Soebagio, J. S. Soares, N. Indraswati, and Y. Kurniawan, "Ekstraksi polisakarida pada biji tamarind (Tamarindus Indica L)," Widya Tek., vol. 13, no. 2, pp. 23–32, 2018.
R. E. Treybal, "Mass transfer operations," New York, vol. 466, 1980.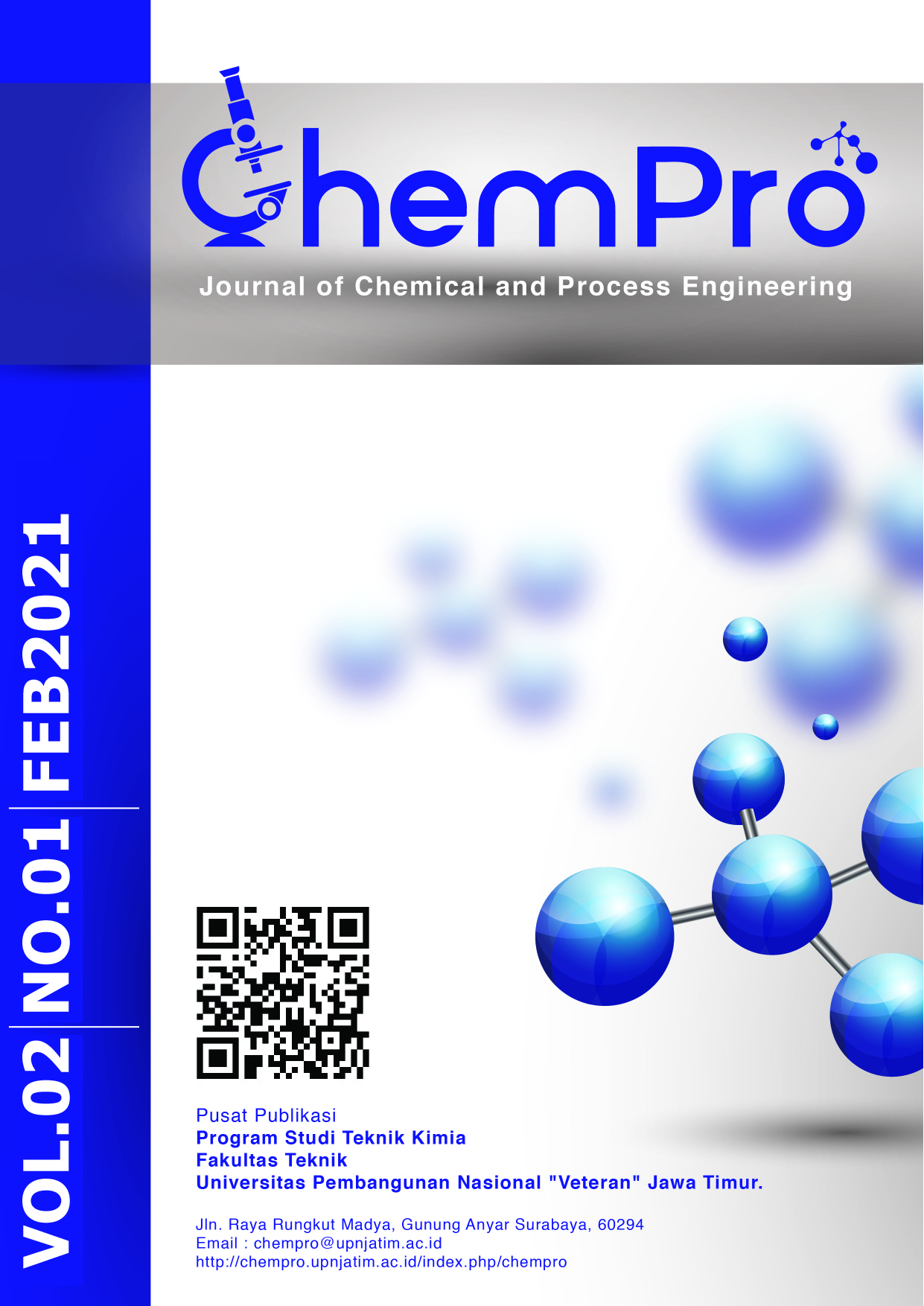 How to Cite
AziziM., RamaniyaD., & PujiastutiC. (2020). Kajian Perpindahan Massa Ekstraksi Polisakarida pada Biji Asam Jawa dengan Pelarut NaOH. ChemPro, 1(02), 8-13. https://doi.org/10.33005/chempro.v1i2.38